5 Benefits of Companionship for Seniors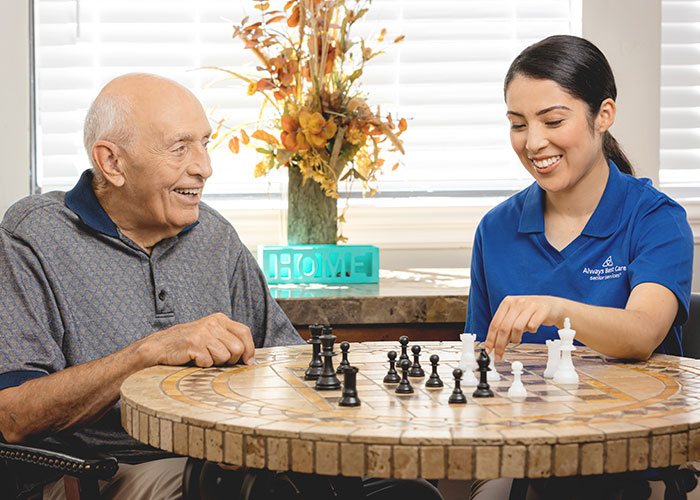 Senior care can provide a wide range of services and supports for older adults to help them safely age in place. One valuable aspect of working with an in-home caregiver is that it provides seniors with companionship. While many seniors enjoy the independence of living in their own home, it can also become lonely if they have lost their spouse or don't have family and friends nearby who regularly visit.
Here are just a few of the ways that partnering with a non-medical caregiver can help:
Reduce loneliness.
Caregivers generally maintain a regular schedule, so seniors know when to expect them. They know that someone will be coming by to visit and keep them company, so it gives them something to look forward to. Spending too much time alone can contribute to feelings of sadness, depression, or anxiety, but having some companionship can be a nice change of pace and boost seniors' moods.
Combat isolation.
It is not always safe for seniors to be driving, so this loss of freedom and independence can cause them to become more isolated. They may not feel comfortable taking public transportation or have easy access to it, and they may feel like a burden asking people to come by to visit or take them places. An in-home caregiver can be a source of transportation to get them out of the house and into the community. A caregiver can also accompany them on errands, outings, or simply walks around the neighborhood. This can help seniors to stay connected to the people and places around them.
Engaging conversation.
Companionship services mean seniors have someone to talk to about their day, their past, or things they're looking forward to. It can also be someone to discuss current events with and engage in more stimulating conversation to keep their mind sharp. For individuals with dementia or Alzheimer's, a caregiver can sit with them as they reminisce about the past and listen to the stories of their younger years with patience and empathy.
Help with technology.
An in-home caregiver can help seniors learn to work technology so they can connect with family and friends. This can provide more opportunities for socialization and staying in touch. Seniors are often hesitant to try to figure out devices on their own because they are not sure what to do, but having a companion there can give them more confidence and practice in a supportive environment.
Increased assistance.
As older adults become more comfortable and build a strong relationship with their caregiver, they may be more open to asking for and accepting help. Their companion becomes a familiar face that they trust. As their needs change, they can ensure that they are getting the level of support necessary to help them continue aging in place and remaining as independent as possible.
Always Best Care offers a wide range of in-home care services for seniors including companionship, assistance with activities of daily living, light housekeeping, help with meal preparation, and specialized care for those returning home from the hospital or living with dementia, Alzheimer's, or other conditions. Contact us today at (855) 470-2272 to schedule a free consultation and learn more about available services.